Mission Statement
It is my goal to assist my patients in their return to health as comfortably and quickly as possible. I encourage education and active participation of my patients in their achieving and maintaining optimum health. 
--Dr. Lisa Devlin



Lisa Devlin, DC, MS is an Activator Methods Chiropractic practitioner.  She has been in private practice in Mountain View, CA since 1993.  Three times voted the "Best Chiropractor in Mountain View" in 2005, 2006, and 2007, Dr. Devlin's mission is to assist her patients in their return to health as comfortably and quickly as possible. She encourages education and active participation of her patients in their achieving and maintaining optimum health. She explains to each patient what their condition is and the treatment procedure. If you have a question, she is always accessible via phone or email.

Frequently Asked Questions
---
Q. How long have you been doing this?
A. I took my first Activator Methods Chiropractic Technique seminar in June of 1990! At that time I was halfway through chiropractic school. I was impressed enough with the technique that I wanted to learn it really well, so I practiced every day. I was awarded my basic, or Proficiency, rating in March, 1991. I continued to study hard and practice and was awarded my Advanced Proficiency rating in October, 1991 - two months before I graduated from chiropractic college. After my graduation in December, 1991, I went to work for another doctor. I worked there for about a year and opened my own practice here in Mountain View on March 15, 1993.
Q. Is Chiropractic care only for back pain?
A. When most people think of chiropractic, they think of backaches, disc problems, stiff necks, sciatica, and whiplash. While this is true, did you know that chiropractic can also help speed the healing process of a sprain of strain in the extremities as well as in the back? Chiropractic can help with foot, ankle, knee, shoulder, elbow, wrist and hand problems and has been shown to be effective in helping such problems as carpal tunnel syndrome, headaches and jaw pain. Many athletes feel that chiropractic care helps them to achieve and maintain their peak performance.
Q. What is the Activator Methods Chiropractic Technique?
A. The Activator Methods Chiropractic Technique is the most widely used "low force" technique in chiropractic. It is a safe, comfortable technique that utilizes a small, hand-held adjusting instrument to correct subluxations of the spine and extremities. The Activator instrument has been specifically designed to deliver a controlled, light and fast thrust without undue strain to the patient. The thrust delivered by the instrument is so quick that is accelerates ahead of the body's own tendency to tighten up and resist the thrust of an adjustment. Because of the accuracy and controlled light force, Activator Methods adjustments are suitable and comfortable for all types of patients, ranging from pregnant women, babies and children, to athletes, to senior citizens.
Q. What is the Proficiency and Advanced Proficiency Rating System used by Activator Methods?
A. The rating system is based on written and practical examinations administered by Activator Methods. Proficiency rating means the doctor has passed an examination based on the basic material. Advanced Proficiency rating means that the doctor has passed an examination based on the advanced material. In order to keep the rating, the doctor must take at least one Activator Methods Chiropractic Technique seminar per year. At the seminar, we are updated with the new research and any new tests that have come along.
Q. I have friends and family that don't live in this area. How can I find a qualified Activator Methods Chiropractor for them?
A. That's easy! Just go to www.activator.com and look up qualified doctors. There are more doctors learning this technique every day, so they should be able to find an Activator Methods Chiropractic Practitioner in their area.
Dr. Lisa Devlin, D.C., M.S.
1265 Montecito Ave., Ste. 105
Mountain View, CA 94043

Phone: 650.428.0950



Office Hours

Monday

10-6

Tuesday

8-noon
Afternoon off site for Animal Care

Wednesday

9-5

Thursday

Off site for Animal Care

Friday

8-5

On rare occasions, my office hours may change. Please check the Calendar or call the office for up to date information.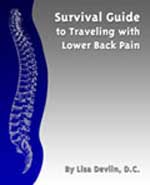 Please check out Dr. Lisa's booklet: Survival Guide to Traveling with Lower Back Pain. Click above for more booklet info.